Elizabeth II's Diamond Jubilee night, when the royal carriages come to Paris!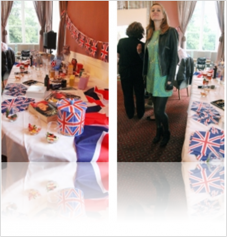 What can one do when an international group's training day takes place in Paris during the Jubilee celebrations of her majesty, especially when several participants are loyal subjects?
Share the event with them and invite the other members to discover the various facets of British culture!
Pimm's, shortbread and scones were part of the celebration as images of the Queen's parade through the streets of London were projected on large screens throughout the evening.
aravelle Consulting challenged the teams with a trivial pursuit test on the 60 years of Elizabeth II's reign, a musical quizz and tastings of Britain's culinary specialities (for which she is so (in)famous) in a fun and lively atmosphere … all in the language of Shakespeare of course!

Acknowledgement of the identity of some, cultural discovery for others, the event underlined that the complexity of a multicultural group is equally a source of pleasure and collective enrichment.

For enthusiasts, here is the recipe for the very British Pimms, a guaranteed icebreaker for social gatherings:
Mix Pimms (1/3) with lemonade (2/3).
Add ice, oranges, strawberries, cucumbers to taste plus mint, lightly crushed to release its flavour, keeping a sprig for decoration.