A medieval murder on the idyllic Lerins island, French Riviera
Article publié par Pandora Brotherton le 24/07/2013 à 21:00
Catégories :
Cultural activities
,
Murder party France
,
Company rallies
Tags :
detective party
,
away day
,
murder mystery party
,
outdoor activity
,
nature rally
,
treasure hunt cote d'azur
,
team building french riviera, corporate event
,
olympiads
,
wine tasting
,
company away day
,
incentive cote d'azur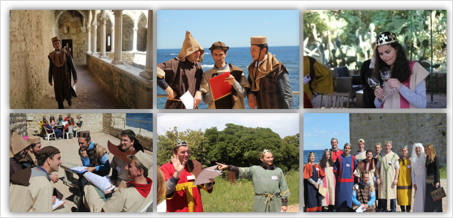 The beautiful and tranquil island of Saint Honorat, a 20 minute boat crossing from Cannes, was the setting for a tragic tale of medieval murder and intrigue!
For centuries the monks of the Benedictine and Cistercian orders have lived on the isle of Saint Honorat in total harmony with nature, working the vines that produce their award winning wines.
Unfortunately the same thing cannot be said of the greedy regional kings of Britain summonsed to the idyllic island by their leader Arthur. For just before evening prayers, Arthur, King of kings, was found dead in the castle chapel, his throat slit! Ultimate act of profanity : a blood soaked dagger lay on the altar by his side.
Faster than a thunder bolt, the great wizard Merlin and high sorceress Viviane were on the scene. After consulting the stars and constellations, the mystic duo were able to determine the suspects and organise an investigation. A particularly talented party of detectives were set to work.
Suspects and investigators took part in rounds of questioning, tournaments and duels as well as hunts for clues to determine who, out of the 7 kings, was the foul assassin and who was worthy to be Arthur's successor!