Blog - corporate entertainment
Article publié par Pandora Brotherton le 10/03/2014 à 14:55
Catégories : Murder party France
Tags : corporate entertainment, murder party paris, murder mystery ile de France, mystery evening paris region, company dinner, team building activity

Participants at a company dinner in central Paris were dying to know ... who did it?
Article publié par Pandora Brotherton le 17/05/2013 à 18:16
Catégories : Cultural activities
Tags : ice breaker, icebreakers, warm up, cocktail warmer, company cocktail, cocktail party, corporate entertainment, client entertainement, communications event, press launch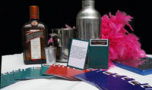 How do you ensure that guests at a cocktail party who don't know each other mingle to the maximum AND have fun learning some essential facts about their host company and its domain of activity in the time space of a cocktail and a mini vol-au-vent????